Axu
Hey everyone,
Just took in some feedback on 0.7.1's release. Seems like I missed some bugs, including typos that caused quests to not register properly. Oops! Followers had a habit of duplicating in strange circumstances, and freezing was occurring during combat. Please let me know if these bugs persist. I am pretty sure I squashed them, but limited testing time makes it difficult to tell.

A little bonus look at a new mechanic: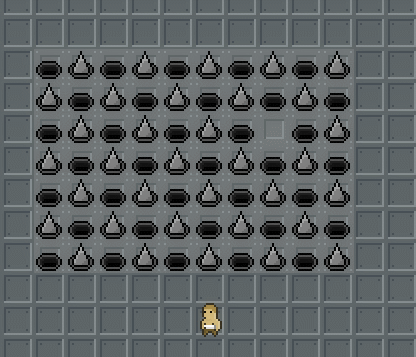 Spikes!
Cheers,
Matt (Cynapse)
CHANGES/ADDITIONS:
Higher chance random names will contain an extra syllable from the "suffixes" list in the middle.
Added an object that reverses the polarity of a wire's signal.
Resistances capped to 90%.
Changed the way the Frozen status effect works. It is applied once the Slow status reaches a certain threshold.
Removed stair locks from some maps. Culling would place them back upon leaving for periods of time.
Added spikes that alternate between extended and retracted positions.
You can delete save files in the Load menu.
Removed spaces from data file names, and reorganized directories.
New boss NPC and special floor.
FIXES:
Equipment tooltips display properly.
Followers no longer get duplicated when entering new areas or during an ambush.
Deleting maps in the map creator works again.
Fixed a typo in Faust's quest that caused an error.
Empty liquid containers no longer cause an error when thrown at enemies.
Freezing during enemy turns should no longer occur.